Gifts From Japan
Isamu and Patti in Brasil
---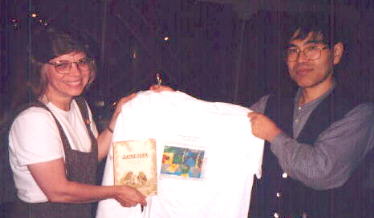 The Second Annual KIDLINK Meeting was held in Rio de Janeiro, Brasil from August 12-16, 1996. KIDLINK people from 13 nations were present and among those was our friend Isamu Shimazaki, the Japanese teacher whose students have been writing to Delmar Title 1 students.
Isamu came to Rio and met me for the first time face-to-face on Sunday afternoon. The meeting was a joyous event for both of us. It was exciting to finally meet each other after many months of on-line projects we had done with our classes. During Isamu's presentation at the KIDLINK Meeting and the V Encontro da Educacao com a Informatica he spoke highly of our joint projects.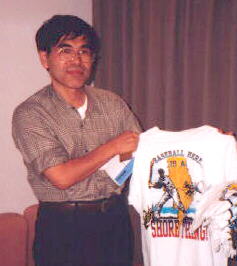 Isamu brought us photos of his teachers and students, t-shirts with images from our WWW pages and also three books from the "Frog and Toad" series in Japanese. His students signed their names in each of the books. I came to Rio with baseball t-shirts for Isamu's students donated by Gardner Sign, Inc. in Salisbury. We plan to continue our projects again this school year in the WWFax '96 project.
---
New Year's Project


Isamu's Japanese words
WWFax '95 The first year of our project
---
Search The Global Classroom
---
Patricia A. Weeg
pweeg@shore.intercom.net Return to Global Classroom