Next Year is Cow's Year
Stephanie and Stephanie share numbers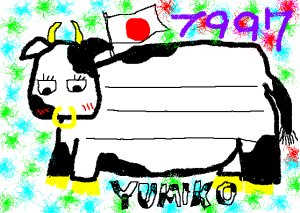 Hello Stephanie in Delmar Elementary School,
Next year is Cow's year. We have old 12 animal name years. Do yoy know the names of Animal Year. It called "Jyuni si" in Japanese. "Jyu ni" means 12 in English.
Japanese name for numbers,
ichi-----1
ni ------2
san-----3
si------4
go------5
roku----6
nana----7
hachi---8
ku------9
jyu----10
jyu ichi-11
jyu ni-12

We are the same name, aren't we? It is wonderful to be able to write the same name girl. Please be my friend. I like flowers. My aunt lives in TEXAS. Please write back soon.
your Japanese friend,
Stephanie
---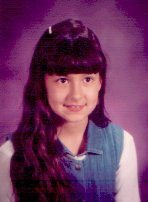 Dear Stephanie,

How are you? Thank you for writing to me. I think that it is neat that we have the same name. What do you mean when you say that there are 12 old animal name years. Why is next year Cow's Year. I do not know the names of the Animal Year. What are they?

Your friend,
Stephanie

P.S. Please write back to me soon.

Dear Stephanie,

How are you? I forgot to tell you our numbers. Here they are:

one = 1
two = 2
three = 3
four = 4
five = 5
six = 6
seven = 7
eight = 8
nine = 9
ten = 10
eleven = 11
twelve = 12


I have written *two* (2) letters to you today.

Your friend,
Stephanie
---
Search The Global Classroom
---
Patricia A. Weeg
pweeg@shore.intercom.net Return to Global Classroom