Introducing Ochi's Mother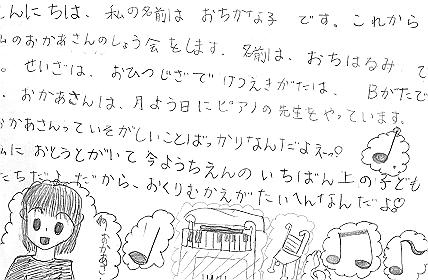 Hello Delmar students and Patti, thanks for your mail today. Now I'd like to tell Ochi's drawing message that previous sent.
Hello my name is Kanako Ochi, this time I'd like to introduce my mother. Her name is Harumi Ochi. She is working to teach playing piano for some students after school every Monday. She is very busy. I have a brother. He goes to kindergarten eveyday, so my mother has to let him go to kindergarten and return with him from there.
from your Japanese friend,
Kanako Ochi

If you are able to introduce your mother or father for us, we are very glad to know. Because we don't know how different or same as ours, we are very currious to know more about your mother and father in your family. For example she is working or not. How your mother care your baby,,,,,,,etc.
Isamu Shimazaki
---
Search The Global Classroom
---
Patricia A. Weeg
pweeg@shore.intercom.net Return to Global Classroom