Kanako Writes About Halloween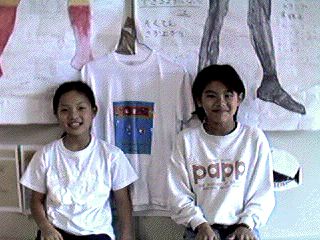 To Orlando,
Hello thanks for your mail. When does it held Halloween ? We did not do that activity yet here in our area. I watched about Halloween once on TV before. I think it will be wonderful to be held Halloween in Japan. Please write back soon.
your Japanese friend,
Kanako Ochi
Pictured: Kanako (right) and Yuuka (left)
---
To Rickie,
Hello I think you are good to be held Halloween there in the States. Thanks for your mail. Yod get candy!!!!!! Great!!!!!!!!!!. I'd like to do the same here in Japan. Please be my friend.
thanks for your mail
Kanako Ochi
---
To Shawn
Hello Dear Shawn thanks for your mail. I'm very glad to receive from you. I'd like to ask you something about Halloween. Please tell mem if someone said No, maybe you'll do a bad work for them. How do you do so bad thing? Which house do you visit and said, Halloween words? any house where your neighbers? Or house where your friends live? Thanks for your answering about Halloween.
Please write back soon,
kanako Ochi
---
To Becci,
Thanks Becci for your mail. It would be wonderful to geet many candys. You DO bad thing for the people who do not give candys? Is it fun thing for you?
your Japanese friend,
Kanako Ochi
---
Search The Global Classroom
---
Patricia A. Weeg
pweeg@shore.intercom.net Return to Global Classroom