Dear Patti

The Grade 1's and Max have at last written to reply to you about the Jojos.

Jojos are made of hard plastic. They used to be very popular, but are not so much anymore. Now Pokemon cards are the most popular things to collect. Jojos are all different characters and they are not all exactly the same size.

Jake said that four jojos could fit next to his pencil, but explained that his pencil is shorter than other pencils! Brett said that he has a "humungous" pencil at home that he will measure next to his jojos.

Yossi then fetched his jojos and brought them to the computer room. We looked at them all and took a photographs of Yossi's jojos to show them to everyone, because the children think they are too difficult to draw. Janna brought her pencil to the room and we could fit 6 jojos next to Janna's pencil. We also measured the jojos next to a paper clip and found that only two were the same height as a paper clip, the rest were all shorter, but they were not all the same height.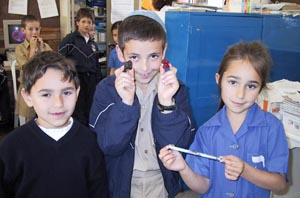 We have also sent a photograph to you of Max, Yossi (holding two jojos next to his face so children can see how small they are!) and Janna holding her pencil.
Warm regards
Mrs Hart