. Students from both schools are now sending e-mail, snail mail, photos, cassette tapes, comics, books, and all kinds of goodies to each other.




Crouse's first grade class sent drawings, their photos on diskette and a cassette tape to their friends in Shiela Herbert's UK class which is called "Fir Class." Herbert's students also responded with photos, hand written letters and a voice tape. At Christmas Crouse's class made a video and sang "Rudolph the Red Nosed Reindeer" for the British students.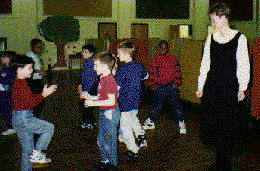 Jo Moore's second grade class sent letters to introduce themsleves in October. In November they wrote stories about their Thanksgiving and sent them to London. Included in the parcel was a photo of each student. Their lovely hand made Christmas cards which arrived in time for the holidays were well received at Cedars school.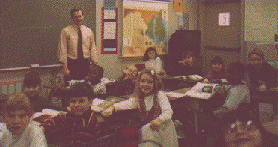 The twinned teachers are using the real time chat (IRC) on the Internet to get to know one another and to plan activities for the students. Burleigh and Curt Twilley's Delmar 3rd graders 'met' for an IRC and discussed tasks that Burleigh sent to the Maryland students. Each student in Twilley's class received a special 'assignment' from their UK teacher which involved excellent math and graphing skills. Twilley met the challenge and his class spent a morning totally engrossed in math activities that mirror our own Maryland School Performance standards.
Twilley met Burleigh this summer at SSU and happily joined the 'twinning' team. His class sends e-mail to the Cedars school using a donated computer in his classroom from First National Bank of Maryland. Twilley's third grade students sent their photos to the Cedars School students and proudly display a bulletin board of happy British faces from Joan Elwine's "Elm Class."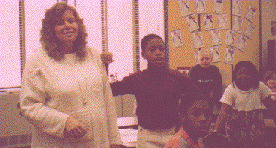 Sally Shaner's fourth grade students enjoyed the voice tape sent by Sharon Gray and her "Willow Class" at Cedars. Shaner's walls are decorated with student photos, drawings, a British map, and coins sent by Gray. This Delmar fourth grade gathered American coins to send back to Gray's students and now both classes are 'rich' in new found friendships. The cassette tapes, filled with singing voices of children, that travel back and forth across the Atlantic are priceless.
Fourth grader, Amber Henry, remarked, "They sound different from us when they talk." Hannah Dewey noticed that she and her keypal in the UK have something in common. "Samantha and I both like to wear floppy hats." Vince Stewart made this observation from his correspondence with Cedars, "I didn't know that soccer is the same as football over there." Blind student, Peggy Nason, sent a Braille letter to Willow Class which they dearly loved. Shaner and Gray chatted on IRC and enjoyed the real time chat that spanned an ocean and five time zones.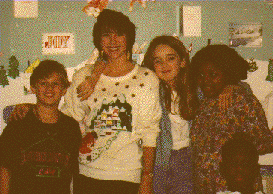 Delmar 5th grade social studies teacher, Martha Pfeiffer and her class are twinned with Mike Burleigh's "Beech Class." E-mail letters have traveled back and forth across the Internet as well as videos of Burleigh's class trip to Devon. Pfeiffer has many walls decorated in her classroom with photos, pictures, letters, and maps sent from the UK. Her students received comic books from their friends in Beech Class ("Beano and Dandy") and sent them American comics in return. Beech Class *loves* American bubble gum and Pfeiffer's students sent Bubblicious gum, a voice tape, books, and candy.
Using e-mail and the IRC Burleigh and Pfeiffer planned an IRC event for her social studies class. Pfeiffer and her students travelled back in a time machine and interviewed Henry VIII! Burleigh portrayed Henry for the students. Henry sent Pfeiffer's class a set of questions and they in turn asked Henry VIII questions which they had discussed during their social studies classes.
Martha has noticed many positive outcomes of using telecommunications with her students. She says with excitement, "The students *want* to write!" She has seen spelling improvements as well as increased attention to time on task for the reluctant learner. Computer mediated communication improves self esteem. Lavon Jackson and Lashawna Cornish visited the Delmar library, on their own initiative, to research the Tudors in preparation for their interview with Henry VIII.
They wrote a two page report and Lavon drew wonderful illustrations which were sent to London. Lavon spent his own allowance to buy American bubble gum to send to his keypals. Martha is spoiling her Cedars class with bubble gum, candy and books while Burleigh is spoiling her with his humor and wonderful history books which match perfectly with her curriculum.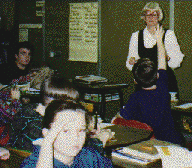 Sixth graders in Linda Hopkins' class enjoy writing to their UK friends and according to Crystal Griffith, "It's fun finding out what's going on in England and compare it to the USA." Tiffany Clark heard a voice cassette sent from The Cedars School and commented, "I like getting their answers back and hearing how they talk." Mindy Miller agrees, "It's fun finding out about life in England." Hopkins' sixth graders have a wall display outside their classroom with photos and letters from Oak Class that Cedars teacher, Greg Simons sent.
In November 'Global Schoolhouse' participated in the "UK-LA 1994" event where Prince Charles was invited to speak across the Internet in a live interactive video-conference with students from California, Washington, England and Australia. The British students participating in this historic demonstration were, of course, none other than our Cedars School friends! Earlier on the day of the live demonstration Delmar students and these UK students 'met' on IRC and talked about the meeting with the Prince of Wales that was to take place later that day.
Taking part in the IRC with London were these Delmar 6th graders: Leslie Dyson, Rachel Dyson, Stacey Eley, Robert Davidson, Sherris and Sherrie Brown, Chrissy Kirk, Katie Perry, Cyrstal Griffith, Mindy Miller, Michelle Cahall, Leslie Bullion and Tiffany Clarke. The fact that at the last minute Prince Charles was not able to join the UK-LA 1994 event was a disappointment to the students but our Delmar students nevertheless had fun chatting with Greg Simon's Oak Class students.
Hopkins' 6th graders also prepared small baggies of Christmas candies and bookmarks to send to England for their UK friends. Burleigh distributed these to each of the students in a local church during a choir festival.
---




-----------------------------------------------------
Via: uk.ac.bbk.ccs; Wed, 14 Dec 1994 22:57:35 +0000
Date: Wed, 14 Dec 94 22:57 BST
To: PWEEG 
Subject: RE: sweeties at choir festival?

Patti and Linda,

We take the kids to the local church ...
this is the first time for many of them that they have been inside a church.

They were actually very well behaved.

Towards the end of the festival of carols and readings Andy asked me to
come out to the front of the church and tell people about our twin school

I told everyone and opened the parcel and as I called out the class names the
teachers sent kids up to collect the bags.

This couldn't have been better and father Nick was most impressed saying that
it was such a nice gesture which made the service of giving so real to the
kids.

Shiela's little ones were especially impressed and kept theirs to take home
with them to show their  mums (unlike mine who greedily wolfed theirs down.

Thank you so much,
Michael

========================================================================
thursday 15 th  december
dear mrs Weeg and Delmar friends, thank  you for the  packet.
of  sweets  I did mostly like  the candy.  l did  give my  chocolates to the
the dinner ladies.
         ps   Please write back  JoHN pauL.

========================================================================
15/12/94.
DEAR   MRS   WEEGS   CLASS.
I  don,t  now  how   to   thank  you   for  those     chocolates
you  sended  to  us  yesterday.I wish I could come to mary land and
play with you.  I will send you a bit of  my favourite chocolate
if I can bye some for you.  PLEASE WRITE BACK.
                         FROM YOUR FRIEND YUSUF.
================================================================

---
Copyright Patricia Weeg pweeg@shore.intercom.net
---
Return to Global Classroom Home Page