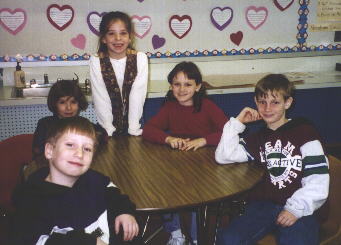 Hello To Elm Class
From Jesse, Autumn, Blair and Kelly
---
Mrs. Cindy Phillips and her class send their first e-mail messages to Elm Class.
Dear Nathan and Paul,
We would like to see you in person. Our names are Jesse and Autumn. We are seven years old and we like to go swimming and play baseball and soccer. We are also friends. The two of you must be friends too. What else do you like? Do you like to play baseball or soccer? Maybe you could come to Delmar Elementary School one day and we would like to go to England and see you.
From Jesse and Autumn
---
Dear Dean,

Hello. My name is Blair. I play baseball. My team is K & L Microwave. My dad is the coach. My dog is Patches. She is a cocker spaniel. My dad coaches American football this year. I've got a sister that is 17 months old. I have a kitten named Simba. Have you seen The Lion King? When do you have lunch in school? I have it at 11:00. Do you like peanuts? When is your birthday? My birthday is August 1st. Do you celebrate Halloween? How old is your dog? Do you like movies? I like movies. My favorite movie is The Lion King. Who is your teacher? Please write back soon.

From Blair
---
Dear Charlie,

My name is Kelly. I am 7 years old. I like to ride my bike. I have one sister named Amber. She is nine. She is in 4th grade. My teacher's name is Mrs. Phillips. What is your teacher's name? How old are you? What is your favorite movie? My favorite movie is The Little Rascals. Have you seen The Little Rascals? Do you have art at your school? What is your favorite subject? Mine is spelling. How many brothers and sisters do you have? What is your favorite color? Mine is blue and purple and yellow. Please write back soon.

From Kelly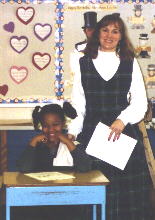 Dear Craig, Daniel, Paul, Dean, Yousef and Charles,
My name is P.J. and I am Erin Keenan. We are 7 years old . We like gym. Do you like gym? We like math. Do you like math? We like cats. Do you like cats. I like to play baseball. We like school. See you later!! BYE!!
Signed,
P.J. and Erin
---
Patricia A. Weeg
pweeg@shore.intercom.net Return to Global Classroom