Pizza With Pineapple
by Ayumi

Hello friends in the States,
Are your second grade students only six? How many students are there in your school? In my class there are 35 students, 19 boys and 16 girls. There are about 880 students in our school from the first grade to six grade students.
We are now learning to play toy called "Byun Byun goma". Next time I'll show you in the picture.
What are you learning now in your class?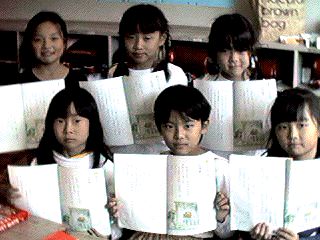 I like a pizza with pineapple and ham. You all like Pepperoni dont't you? I wonder why you are able to eat pizza in your school. We served school lunch, but Pizza never served yet. yes, School lunch I'd like to show next time how our school lunch look like. Are you all interesting to know our Japanese school lunch? Sometimes in our home, father and brother and I make our home pizza. It is of course VERY delicious.
How about you ?
your Japanese friend,
Ayumi Suzumoto

pweeg@shore.intercom.net
Return to Global Classroom