Shanita's first letter to Mrs. Szymanski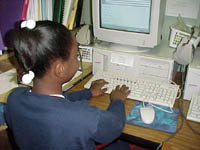 November 12, 2001
Dear Mrs.Szymanski,
I am going to tell you all about me. My name is Shanita. I am 8 years old. in my family there are 5 people: Shameika, Mom, Dad, Gene, and me. I don't Like to ride my bike. I am a good friend. I like to play at home.
I would like you to help me on my story.
Your friend, Shanita

November 16, 2001
Hi Shanita,
It is so good to hear from you! You have the most beautiful name. Of all the things you told me, my most favorite is that you are a good friend. That is a very important quality, and one that I admire!
It sounds like you have a pretty big family. I have three brothers and three sisters, and I think that big families are fun!
Writing a story is a lot of work, but it can also be exciting, too. I know we will have fun! First, you get to come up with an idea, then use your imagination to make it into the best story you can tell. Then comes the work. Sometimes I rewrite a story a 10 or 12 times before I think it is good enough to finish. But, even the rewriting can be fun if you get excited about new ideas, like I do!
I will be waiting to hear from you! I hope that ideas begin to fill you head until you feel you just have to write them down!
Happy writing!
Your Friend,
Lois Szymanski
Shanita's second letter to Mrs. Szymanski
November 24, 2001
Hi Miss Szymanski,
Here are some Ideas for my story: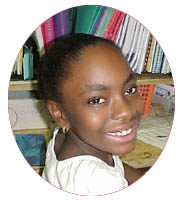 Favorite book
Shoping trip
Magic candy
Day in the mall
magic storm
the day at home
the magic gold
a magic gift
my favorite vacation
my pet is coming back home
the giant dog
I"m realy not sure about this.
Your Friend,
Shanita

November 29, 2001
Hi Shanita,
You have a lot of great story ideas! No wonder you are having a hard time picking which one to write about. So many good ideas make it hard to choose.
Maybe you can combine several ideas to make one story. For example, on a day in the mall you could stop at a candy store and buy some candy that turns out to be magic candy!
Or, you could spend a day at home scared and worried about your missing pet. You could read your favoite book to cheer up, look at pictures from your favorite vacation, and worry about a giant dog (especially if your missing pet is a cat). In the end your pet could come back home, making a for a happy ending!
Or you could just choose one idea, like the magic storm. Would the rain be made of gold? Would the thunder be created when angels rubbed their wings together, or when giant tubs of gold tipped over in the clouds above? Would the wind bring magic spells? What would happen in a magic storm? Who would be your main character and what would they see and feel?
I am not sure what idea you will pick, but you have many good ones to think about. If you still can't decide, let me know and we will make a list of what you can do with each idea you have. Have fun with it!
Your friend,
:>)
Lois Szymanski
Hi,
Here is my story map. Can you help me with my story?
Your friend,
Shanita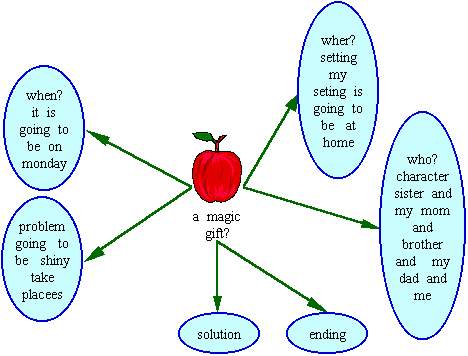 December 10, 2001
Hi Shanita,
I enjoyed looking at your story map.
You have done a great job filling out "Who" with your characters, and "Where" for your setting. I see that "When" is going to be on a Monday, but I wondered what time of year it will be, and what time of day?
Your problem circle is not clear to me. Is your magic gift something shiny that is hard to hide to take places with you?
Now that you've had the weekend to think about your story did you decide more about what will happen? I am excited about learning what the problem will be in your story, and how you will find a solution, and end the story.
Please write to me soon so I can learn more about your story. I will look forward to hearing from you!
Your Friend,
:>)
Lois Szymanski
Shanita revised her story map - February 1, 2002
Click on the images to see larger versions.
February 5, 2002
Shanita,
I enjoyed reading your story map. You have spent a lot of time thinking about your story and what you want to do with it, and it shows! You have a great start here. Now you get to start writing!
While you write, think about the little things that make a story seem real. Two things that can make your story come to life are description and dialog.
Description helps the reader see your story in his or her mind. Describe what your character looks like, the shiny ring, and anything else that you think is an important part of your story.
Dialog is the word we use to tell when people talk in a story. Having your main character actually speak in the story will give her life and make her seem more real than if you told the story about her without having her speak. I would love to know what your character has to say when she gets thos wishes!
Good luck with your writing! I'll be waiting to read your story!
Your Friend,
:>)
Lois Szymanski
A Magic Ring
By Shanita
I was walking to school one morning in early June. The sun was shining and it was already a hot day. I saw something shiny and sparkling in the grass, I wondered what it was. I bent down and picked it up. It was a big diamond ring! I showed my friend, Chelsea, when I got to school. She said, "Can I wear it for a while?" I told her that she could wear it tomorrow but today I wanted to wear it.
I put the ring on my finger and something happened. I was in math class doing multiplication. I passed my nines. On the page in my math book was a math problem about Skittles. I love Skittles. They are my favorite candy. I wished that I had Skittles to eat. The Skittles on the page in the book came out of the book and were on my desk! My wish came true! I ate lots of Skittles and my tummy started to hurt.
It was time for gym and I didn't want to go because I forgot my gym shoes. Mrs. Noelte would not be happy with me. As I was walking down the hallway to the gym I wished I had my gym shoes with me. Suddenly I felt a funny feeling in my feet. I looked down and my tennis shoes were on my feet! Ohhh.. my stomach was not feeling very good. Why did I eat those Skittles?
I wished I was home in bed. In a flash I was not in gym class, I was at home in my bed! Oh no! Now I'm going to miss our class ice cream party. I'm sorry that I made the wish to be home in bed. I wondered why all of my wishes were coming true. Could it be the ring? I took the ring off and wished that I was at school again Nothing happened. My wish didn't come true. It must be the ring that is magic. I realized that getting everything I want isn't always fun.
I decided to put the ring back where I found it.
Hi Shanita,
I enjoyed reading your story, and I especially liked how you opened the first paragraph. You described the day well and I felt like I was there with you as you found that shiny diamond ring! I only have a few things for you to think about.
In the second paragraph you say there was a math problem about Skittles. Can you say right away that there are pictures of the Skittles on the page in the math book so the reader can picture it in his or her mind?
Also, can you say that your tummy still hurts when it is time for gym? Then, at the end of the paragraph when you say, "Why did I eat all those Skittles?" it seems even worse!
At the end of the story when you say, "It must be the ring that is magic," can you add, the words, I thought. And last of all, I'd like to see you actually putting the ring back where you found it, and then skipping away. It says a lot when you leave a diamond ring behind in the grass, and you don't regret it!
Thank you for letting me read your story. It was a lot of fun! Write back soon.
Your Friend,
:>)
Lois Szymanski