The Lost Necklace
by Niki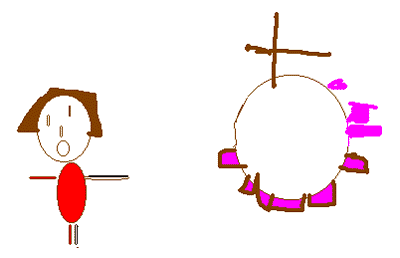 "Don't cry, Morgan, we can help you find the necklace." I said. It was a Saturday afternoon and Morgan and Maria were playing in Morgan's room. I walked into their room when they were playing with Morgan's jewelry. They were talking about Morgan's favorite necklace that was lost. Morgan was very sad because her grandma gave it to her at Christmas before she died. Morgan loved the necklace because it reminded her of her grandma.
We tried to solve the mystery. Where could the necklace be? We decided to play a detective game. Was the necklace stolen, borrowed, or did Morgan lose it? Maria thought it was stolen. I thought it was borrowed and Morgan thought she lost it.
We decided to interview people who might know what happened to Morgan's necklace.
We found Morganís mom doing laundry. She frowned, then said, ďOn Thursday Roxy knocked over Morganís jewelry box and all of the jewelry fell on the floor. The box hit a glass and spilled a drink in your room, Morgan. I was too busy cleaning up the spilled drink to notice whether your necklace was there or not. Aunt Mill came in and said that she would pick up the jewelry.Ē
Then we talked to Aunt Mill. "I saw Morganís jewelry box on the floor and all of the jewelry had fallen out. I put it all back in the box but I didnít see the necklace," she said.
Shannon spent the night at Morganís house on Thursday. We asked her about the necklace. Shannon said, "I saw the puppy running out of Morgan's room with something in her mouth."
"Shannon, what do you think the puppy had in its mouth?" I asked. "Maybe the puppy took Morgan's necklace!"
"I think it was something shiny in her mouth but I didnít see what it was," Shannon told me.
The last time Morgan saw the necklace was on Wednesday when she was playing dress-up. She was being a princess. She keeps the necklace in her jewelry box that is on her set of shelves in her room.
We got a notebook and wrote some of the clues that we now had to help us solve the mystery.
Clue #1 My brother's puppy, Roxy, spilled a drink in Morgan's room on Thursday.
Clue #2. The jewelry box was on the floor when Mom got Morganís laundry.
Clue #3 Aunt Mill put all of the spilled jewelry back into Morganís jewelry box but she didnít see the necklace.
Clue #4 Shannon saw the puppy running out of Morganís room when she was looking for her clothes. She thought something shiny was in her mouth but she wasnít sure what it was.
We went back to my house which is right across the street from Morgan and Maria's house. We looked for Roxy to see if she had the necklace. We found Roxy in my mom and dad's room. She was hiding under their bed. She knew she had been naughty. We saw that her paws were muddy. We went outside to see where she was digging. We got three shovels and started digging to see what she buried. While I was digging I heard a noise. My shovel hit something. I thought that maybe it was the necklace. It was! I found Morgan's necklace!
Roxy had been playing in Morgan's room. When she spilled the drink she ran away quickly and bumped into the jewelry box. All of Morgan's jewelry spilled out of the box and Roxy dug through it and grabbed the necklace with her teeth. She ran out of the room and across the street to my house. Then she went in the backyard and buried it.
Morgan was happy that I found the necklace and we had more fun playing school the rest of the afternoon.