Dear friends,

How are you? How was your weekend? In response to your question: what is mah-jong, let me show you the pictures first. David, the boy see in the pictures, has brought a set of mah-jong to show you. It's pretty heavy and it's still not complete: some dice are missing.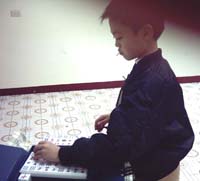 As no kids know how to play it, I asked Scott for some clues: there's only one way of playing it (unlike cards, there are many different games possible), but the rules are very complex. Basically, it's a game for smart people! There should be 4 players, no more or less, for a game to be played. A round or match lasts for about 40 minutes to 1 hour; also there's an implicit rule/tradition to play 8 rounds in a row, so it's usually the case to see people playing overnight (or longer) during the Chinese New Year. Mah-jong is played in many countries in Asia, specially in China, Taiwan and Japan. In Honk Kong, it's played at restaurants before a banquet or a wedding reception. In Taiwan, adults play during CNY holidays.
Hmm...hope this gives you a rough picture of thia game called Mah jong. Watch out! If you start on, it may be difficult to get off the hook: it's like a drug and...if you're a not too brilliant, you may lose $$$$$$$$ easily!
Besos,
Ana
| | | |
| --- | --- | --- |
| Jenny holds the Mah-jong case. | David is enjoying a lollipop. :-) | |